Welcome to ARAG
December 2nd 2019
Today marks the official launch of ARAG Legal Protection Limited, a company that we are sure will advance the benefits of legal expenses insurance throughout Ireland. It's a very exciting day for us and one that we have been looking forward to for several months.
Following the acquisition announced earlier this year, we have now received regulatory approval to launch ARAG in Ireland. The faces haven't changed and we're staying right here in Harcourt Street in Dublin, but we are all delighted to be joining the global ARAG family that has already made us all feel so welcome.

I think it's fair to say that we're all quite proud of the business that we have built, the great relationships that it is founded on and the advice and protection that we have provided to so many people and businesses over the past couple of decades. We're also very excited about the future.

Our business partners can be confident that they can continue to offer the same range of superb legal expenses insurance and assistance products, backed up by the same quality of service and all delivered by the same, friendly, professional and highly experienced team.

Our new parent company, the ARAG Group, is the largest family-owned business in the German insurance industry, and now provides legal expenses insurance solutions in 19 different countries all over the world, in many of which it is the market leader. The Group generates over €1.7 billion in premium income and employs more than 4,100 people.

Commenting on our launch, Renko Dirksen who is a Member of the Board of Management for the ARAG Group said "ARAG has established itself around the world as a versatile, quality insurer through innovation, flexibility and service, so this acquisition represents a great fit. Adrienne and her team have a formidable reputation, not just in Ireland but throughout the legal expenses insurance world, which is thoroughly deserved and has translated into clear market leadership, in every sense of the phrase."

Since the acquisition was announced, we have also been supported by colleagues in the UK, where ARAG has been established for almost 15 years. Among them are several legal expenses insurance veterans who we worked with when the concept was first launched in Ireland. They have also had some encouraging words for us:

Tony Buss, ARAG's managing director in the UK said, "I worked with Adrienne and some of her team for several years, back when legal protection was new to the Irish insurance market. So, I am delighted that they are now joining the ARAG family. ARAG is a growing, global business that now reaches from Canada and the US all the way to Australia, but the company is still driven by its founding principle that access to justice should be available to all, and not just those who can afford it."

ARAG Legal Protection Limited received regulatory approval on the 4th of November 2019 and started trading on the 1st of December.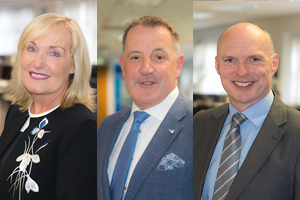 ARAG Ireland's Senior Management team