The Insurance Charities – providing a lifeline in troubled waters
Adversity can affect anyone: a child with medical needs, a relationship breakdown, mental health issues, domestic abuse, a debilitating illness; all unforeseen events that can turn lives upside down.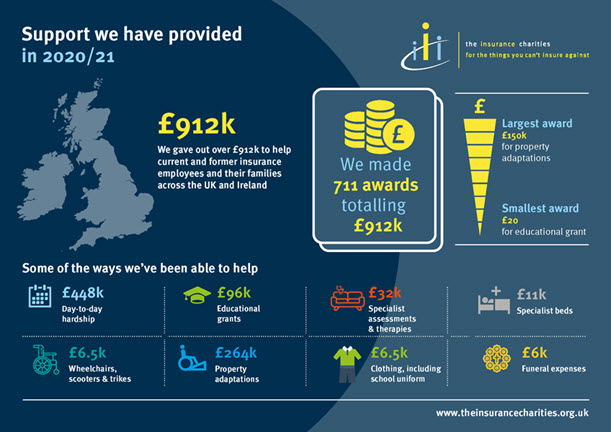 Established in 1902, The Insurance Charities is the only charity in the UK and Ireland solely supporting current and former insurance employees, no matter what role they have had.

Every year it supports hundreds of insurance employees and their families in times of need, transforming lives for the better and providing an essential lifeline for as long as it's required.

The Charity can help with one-off payments to help finance essential items such as property repairs, household appliances, furniture, and mobility aids. It can also provide on-going financial help (including charitable loans) where income is restricted or insufficient to meet higher than average costs resulting from, things such as a health condition.

Working with partner organisations the Charity provides specialist and dedicated help to its beneficiaries. Current partnerships with Alzheimer's Society, Aware and Shelter, provide support for those living with dementia, mild depression, and anxiety and for those help with housing-related issues.

To contact The Insurance Charities email info@theinsurancecharities.org.uk or call 020 7606 3763. You can also find out more and apply for help on their website www.theinsurancecharities.org.uk.
This article was written by The Insurance Charities.