Best Companies success boosted by ARAG's pandemic response
25/05/2021
ARAG has credited the company's response to the pandemic with making a significant contribution to its success in being recognised as one of the UK's Best Companies to Work For at the Best Companies Live event, that was held on Friday.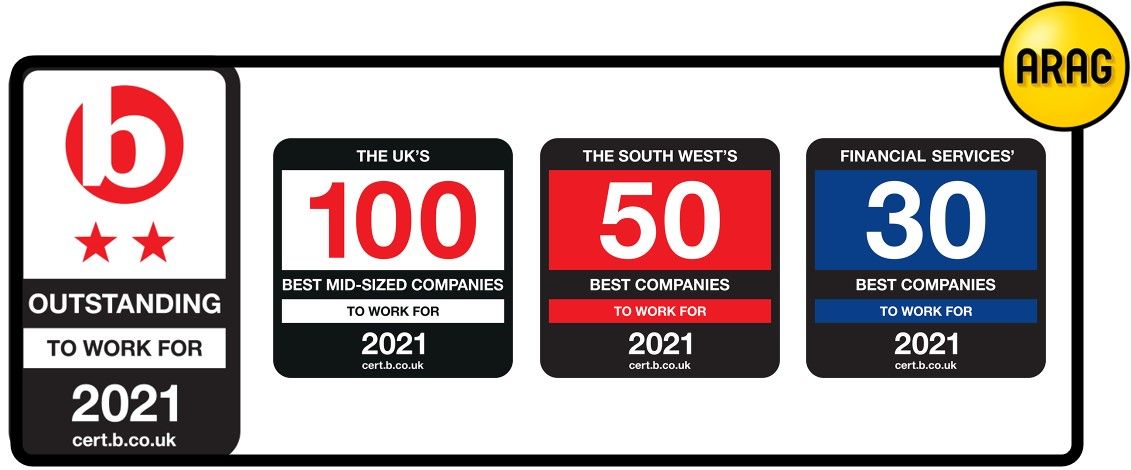 ARAG achieved 'outstanding' Best Companies status, ranking 17th of all companies in the South West, 14th of all financial services companies in the UK, and 57th of all mid-sized companies (75-199 people) in the country across every sector, at the live event hosted by TV Presenter Dan Walker.

"Obviously, our primary responsibility when the pandemic struck was to take care of our policyholders, many of whom were experiencing extreme difficulties and hardship" comments People Services Manager, Ian Screen. "However, from the outset, we were very conscious of the additional pressures placed on our staff."

"They responded brilliantly to the abrupt shift to homeworking, but also to the steps we took to keep us all connected and morale up. A live, weekly update from our MD, Tony Buss, went down very well, but also little things like 'treat' packages, coffee breaks and regular, virtual social events, like a cheese and wine tasting, really made a difference."

The Best Companies accreditation programme is the UK workplace engagement standard that recognises managers and organisations for valuing and respecting their employees.

"While ARAG didn't face the same commercial stresses endured by many of the businesses and families that we insure," adds Tony Buss, "It has still been a tough year on the staff, who have coped superbly, working remotely at an extremely busy and challenging time."

"I am so proud of the way in which they have responded, supported each other and delivered an outstanding service to our customers when they needed it most."

To celebrate the success ARAG engaged Bristol-based Boxlocal to supply gift boxes of locally-sourced goodies that were delivered to staff by eco-friendly couriers Zedify.
Disclaimer - all information in this article was correct at time of publishing.